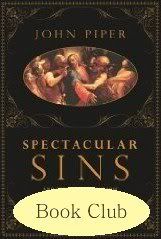 It's week six and John Piper is still hitting me hard with some incredible truths and giving me so much to think about regarding sin and God's sovereignty. This post is a little late, but I felt sort of lukewarm about this week's study. Maybe because I was ready to answer the questions on Monday when I was off, but didn't get the questions until Tuesday. It sort of put me in a funk, and I didn't want to answer them at all (I wonder what category of sin pouting goes into?) but then received a concerned text from a friend who was checking in because she knew that I had not posted my answers.
I realized that there was absolutely no reason that I should be putting this off. Lisa and Missy are very busy with husbands, children and LIVES, and getting my nose out of joint because they didn't get the questions to a book club posted by an imaginary time in my head (thus upsetting the delicate balance of OCD and normality in my brain) was just ridiculous. So I offer a heart felt apology to Lisa and Missy who never would have known what a freak I am if I had not posted this, but somehow felt that I needed to confess. I truly appreciate the hard work and effort you guys put into this study and for suggesting it in the first place!
And Linda...thanks for the text and for reminding me what friends are for!
1) What were the primary motivations of the people who endeavored to build the Tower of Babel? The love of praise and the love of security, which I think all sort of stem from the sin of pride.
2) Why did God consider is a sin to live in a city? Because they were trying to exalt themselves to the place of God, instead of dispersing and filling the earth with his glory. They were being disobedient to the command God gave Noah after the flood to "be fruitful and multiply and fill the earth by "clustering" together in a city. I have to believe that we are not so different today...how often do we follow the "mob mentality" instead of doing what we know is absolutely right? We need acceptance and friendship, and will sometimes go to great lengths to be part of the in crowd despite the still small voice telling us otherwise.
3) Of the five ways that Christ's glory is magnified by the spectacular sin of the Tower of Babel (pp 69-72) which one resonates with you the most, and why? Christians guarded; I never thought of the story of the Tower of Babel in quite this way. Piper says, "God's division of the world into different languages hinders the rise of a global, monolithic anti-Christian state that would have the power to simply wipe out all Christians. We humans are far too evil to be allowed to unite in one language or one government." I guess it resonated with because it was such an utterly new thought for me.
4) Can you provide an example of the way that the Gospel of Christ takes root in literally thousands of different cultures, despite language barriers, social mores, existing religious practices, etc.? What does this say about the "uniqueness" of Christianity? I have friends from high school who are now living in Germany, and in their last update were talking about attending church in a place where the language is not well know to them. In spite of the barrier, they were still able to worship and praise God alongside a congregation of German speaking people.
5) How are you also guilty of sin in the ways the Tower of Babel builders were? Where do you seek comfort apart from the Lord? I have the spiritual gift of service, and I like to think that I always seek to serve others from a sincere heart and a love of Christ, but the truth is that I enjoy the praise that comes from serving others. I crave approval and validation for my work, and sometimes I let the lack of recognition simmer in my heart as the sin of pride. Sometimes it's easier to overcome than other times, but the bottom line is that I should resist those feelings altogether. The only approval I need is from God, and any recognition or praise from man should be secondary to knowing that I glorified Him and that He is pleased with my efforts. If anything, I should try to serve others in such a way that they only see Him and not me.
When I try to seek comfort apart from the Lord, all I am doing is wallowing in my own sin. Complaining to my husband and friends is just as sinful as loving praise, and I just compound my guilt.
6) My husband often says that at the root of every sin is pride (and I have yet to be able to prove him wrong). Was this true in the case of these people? How can you confront and rebuke your own pride? I think being aware of it is the first step. That sounds so trite, but it's very true. If you are blinded as to why you behave in a certain way, then you'll never be able to overcome it. I think that if we were all willing to stop for a moment and humble ourselves before God and man, we would get a lot more accomplished as the body of Christ. If we stopped criticizing others to make ourselves look better, if we stopped thinking that certain jobs are "beneath" us and just jumped in with both feet to whatever task God has prepared for us, if we stopped....well, the list could go on and on. I really believe that pride hinders our ability to spread the gospel effectively and renders us impotent to fully glorify Him in all that we do.