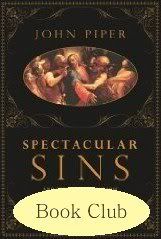 It's
week four
of our online book club, and I am still excited about this book. There is much about Satan that we will not know until we get to heaven, but Piper gives some great tools for dealing with the evil that is in this world.
1. On page 40 Piper tells us that the name Satan means "accuser." Do you ever feel accused? I know I do. Sometimes I lie in bed at night and obsess over all the ways I have failed throughout the day, or I relive all the sins of my past. Turn in your bibles (or click here) to read Romans 8:1-2. What does this verse say?
Because of my salvation, I no longer stand condemned before God. I still sin, which requires repentance and forgiveness, but I am not condemned.
If this is true, from whom are all those accusations of failure?
Satan.

What then should we do when our thoughts go there?
We have to resist the condemnation of the devil, and call to mind the scripture that affirms our perfection in Christ. I Peter 5:9-11 Resist him, steadfast in the faith, knowing that the same sufferings are experienced by your brotherhood in the world. But may the God of all grace, who called us to His eternal glory by Christ Jesus, after you have suffered a while, perfect, establish, strengthen, and settle you. To Him be the glory and the dominion forever and ever. Amen.
What is the difference between condemnation of our sin by the Evil One and conviction of our sin by the Holy Spirit?
Our condemnation by Satan is not edifying…it rejoices in our weakness and is joyful because of our sin. The polar opposite is the encouraging, edification of the holy Spirit. It moves us to repent of our sin, and to be changed for the better.
2. How does God allowing Satan to live bring glory to Christ?
The sharp contrast of Satan's evil plots and schemes and Christ's perfect love and grace, brings Christ's glory into clear focus. We can't help but see His glory when we see fellow Christians bearing up under the burden of pain and difficulty, or when we see the love of Christ being displayed through willful acts of kindness and service in spite of opposition.

3. Read the 'Eight Things to Do with Evil" and "Four Things to Never Do with Evil" lists on pages 50-51. Which of these do you have the most problem with?
Expose evil. This one seems pretty simple, but it becomes more complicated in my daily life. I know what is right and wrong, but how do I expose it? Does this mean that I simply walk away from situations that might cause temptation (i.e. a gossip session at work), or does it mean that I should actively speak up for what I know to be true? It seems that not participating is not the same as exposing.

4. Recall Piper's introduction, specifically pages 13-16 when he speaks of persecution of the Church. Since December I have been praying for Martha Samuel Makkar. She is an Egyptian sister in Christ who converted from Islam, and has faced persecution ever since. In December, she was arrested at the airport when she tried to immigrate to Russia. Martha was placed in prison, tortured, raped, and her two and four year old sons were denied food in an attempt to cause her to renounce Christ. She was recently released on bail and is awaiting trial. You can read her story
here
and
here
(and please join me in praying!)
How might the truths Piper has conveyed in this chapter regarding evil - the "weighty doctrine" - bring comfort to Martha and her family while she undergoes persecution for Christ?
The fact that no matter what happens to her or her family, it's all temporary. Satan can hurt and even kill our bodies, but he can never destroy our souls. We are instructed to rejoice in our afflictions, because they bring us endurance, character and hope. Romans 5:1-5 Therefore, since we have been declared righteous by faith, we have peace with God through our Lord Jesus Christ. Also through Him, we have obtained access by faith into this grace in which we stand, and we rejoice in the hope of the glory of God. And not only that, but we also rejoice in our afflictions, because we know that affliction produces endurance, endurance produces proven character, and proven character produces hope. This hope does not disappoint, because God's love has been poured out in our hearts through the Holy Spirit who was given to us.